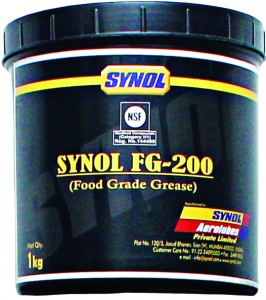 Description : SYNOL FG-200 is a non-toxic, tasteless, odourless, soft grease for food & pharmaceutical industry.  It is an excellent lubricant for moderate loads, temperature & speeds. In case of accidental contact with processing material the grease poses no health hazard.  It is highly stable with good resistance to water washout, oxidation & very low evaporation rate. It is approved by NSF for H1 category.
Applications: All  types of machineries used in the Food Processing industry, Packaging industry, Pharmaceutical and Cosmetic industries, Breweries, Distilleries, Bottling Plants, Sugar Mills, Beverages etc. for valves & bearings, anti-friction ball and roller bearings, sleeve bearings and needle  bearings operating under high speeds and high temperature. It is one  grease for all food stuff applications.
Precautions:
Store below 50°C in well ventilated place.
Avoid contact with eyes. In case of contact, splash and wash with adequate water.
Keep out of reach of children.
Packing: 1-kg. jar and 10-kg.bucket