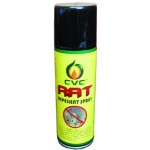 Description :
CVC
Rat Repellent
Spray is an easy to use repellent. When sprayed properly it prevents rodents from nesting, traveling and congregating in unwanted areas. Ideal for schools,
homes
, offices, warehouses, automobiles, garages, etc.
Application :
It is ideal for protecting large &
small vehicles
from the threats of rodents damaging wiring, cables etc. This product can also be used for other applications where plastic pipes for gas, water and other liquids are used for
general utilities
underground. It will also prevent rodent colonies underground in certain areas. This product also prevents rodents from biting wires, cables, and conduit.
Benefits :
Easy to apply.
Protects

car

from rats & rodents.
Prevents

cable

damage & replacement.
Prevents rat colonies / menace.
Direction for Use : 
Open the bonnet of the four wheeler and spray entire area of cables & other parts where rodent menace is experienced. Spray 15-20 cm. away from the surface. The surface coated should be free from oil, grease, dirt, dust & moisture. No sealing, pretreatment or taping is required.
Packing : 250-ml Aerosol Tin