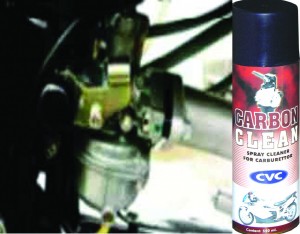 Description : This is a high quality, specially formulated cleaner in spray form for removing the gummy & carbon deposit from the fine passages of Engine parts, Burners & other similar Industrial parts subject to carbon deposits due to combustion & high heat.  It also improves Injectors performance for uniform flow of fuel to the engine bikes.
Applications :
Cleans metal surfaces from carbon/grease, dirt and
oil
. It helps to restore and pep power in engines.  Reduces residue in the cylinder and valve area.
Benefits : 
Removes varnish, gums and carbon deposits from fuel system, carburettor, valves, Piston rings and combustion chamber.
Protects against corrosion due to a specially added rust corrosion inhibitor.
Improves engine efficiency and machinery operations.
Packing : 550-ml. Aerosol Tin and 30-kg.drum
We have distributors in Mumbai, Delhi, Kolkatta, Chennai, Bangalore, Hyderabad, Delhi - NCR, Ahmedabad, Goa, Pune, Nashik, Nagpur, Baroda, Surat.