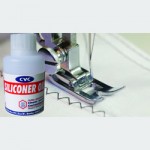 Description : CVC SILICONER OIL is specially formulated silicon oil with additives suitable for thread and yarn lubrication for stitching and embroidering machines.  It is non-staining, non sticking long life lubricant which does not allow cotton fluff, dirt and dust to stick to the needles, thus ensuring long needle life. It reduces operating temperature of needles .
Shelf life : 1 year when properly stored. (Store in a cool place)
Packing : 100-ml.plastic bottle with dropper and 1-litre bottle.